Open/Extract ISO File with Freeware on Windows/Mac/Linux
---
ISO is an archive file of an optical disc, a type of disk image composed of the data contents from every written sector on an optical disc, including the optical disc file system. ISO image files usually have a file extension of .iso. The name ISO is taken from the ISO 9660 file system used with CD-ROM media, but what is known as an ISO image might also contain a UDF (ISO/IEC 13346) file system (commonly used by DVDs and Blu-ray Discs).
ISO images can be created from optical discs by disk imaging software, or from a collection of files by optical disc authoring software, or from a different disk image file by means of conversion. Software distributed on bootable discs is often available for download in ISO image format. And like any other ISO image, it may be written on -- or "burned" to -- a CD, DVD, or even a USB flash drive with any capable software.
The .iso file extension is the one most commonly used for this type of disc images. The .img extension can also be found on some ISO image files, such as in some images from Microsoft DreamSpark; however, IMG files, which also use the .img extension, tend to have slightly different contents. The .udf file extension is sometimes used to indicate that the file system inside the ISO image is actually UDF and not ISO 9660.
Any single-track CD-ROM, DVD or Blu-ray disc can be archived in ISO format as a true digital copy of the original. Unlike a physical optical disc, an image can be transferred over any data link or removable storage medium. An ISO image can be opened with almost every file archiver. Native support for handling ISO images varies from operating system to operating system.
Open/Extract ISO File on Windows
Easy 7-Zip opens/extracts ISO file easily on Windows. The Easy 7-Zip was developed based on 7-Zip. 7-Zip is a famous open source file archiver. The Easy 7-Zip is an easy-to-use version of 7-Zip. The open source freeware keeps all features of 7-Zip and adds a few useful features that makes the software more user-friendly.
Easy 7-Zip works on Windows 10/8.1/8/7/Vista/2008/2003/XP/2000 (both 32-bit and 64-bit compatible).
Free Download Easy 7-Zip
Install Easy 7-Zip by step-by-step instructions
The installation will associate ISO with Easy 7-Zip automatically
Double-click on ISO file to open ISO file with Easy 7-Zip


You will see files or folders within the ISO file then, click button Extract to extract the ISO file.


Alternatively, Right-click on ISO file on Windows Explorer


And then, choose Extract files..., Extract Here, or Extract to "folder\" to extract the ISO file.


Done
Easy 7-Zip Download Links:
There are many alternative freeware that opens/extracts ISO file without burning the ISO file to disc. For example:
Microsoft Virtual CDRom Control Panel
Virtual CloneDrive
WinCDEmu
MagicDisc
PeaZip
Pismo
DAEMON Tools Lite
Alcohol 52% Free Edition
---
Open/Extract ISO File on Mac
B1 Free Archiver opens/extracts ISO file on Mac. B1 Free Archiver is a free software for creating archive folder and extracting archive file. B1 Archiver works on all platforms - Windows, Linux, Mac and Android. The freeware supports most popular formats including ISO.
B1 Free Archiver is compatible with:
Mac OS X 10.9 Mavericks
Mac OS X 10.8 Mountain Lion
Mac OS X 10.7 Lion
Mac OS X 10.6 Snow Leopard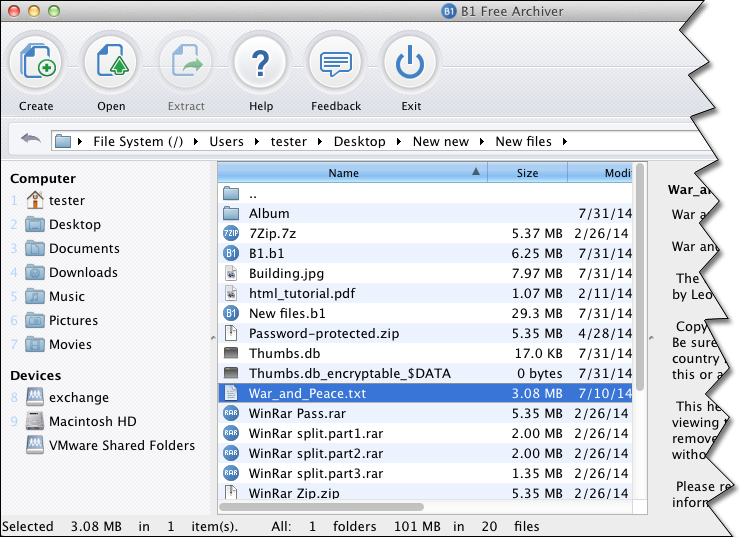 There are a few alternative freeware that opens/extracts ISO file on Mac.
---
Open/Extract ISO File on Linux
You can use command mount to mount ISO file as a virtual drive.
First, you must login as a root user. Create a directory for ISO image
Use mount command as follows to mount ISO file called image.iso:
# mount -o loop image.iso /mnt/isoimage
Change directory to list files stored inside an ISO image:
# cd /mnt/isoimage
# ls -l
Unmount the ISO image, type:
---
Copyright © 2013-2017 James Hoo All rights reserved.