Open/Extract RAR File with Freeware on Windows/Mac/Linux
---
RAR is a proprietary archive file format that supports data compression, error recovery and file spanning. It was developed by a Russian software engineer, Eugene Roshal (the name RAR stands for Roshal ARchive) and the RAR software is licensed by win.rar GmbH.
Like other archives, RAR files are data containers, they store one or several files in the compressed form. After you downloaded RAR file from Internet, you need to unpack its contents in order to use it.
The filename extensions used by RAR are .rar for the data volume set and .rev for the recovery volume set. Previous versions of RAR split large archives into several smaller files, creating a "multi-volume archive". Numbers were used in the file extensions of the smaller files to keep them in the proper sequence. The first file used the extension .rar, then .r00 for the second, and then .r01, .r02, etc.
Comparing to ZIP file format, RAR provides a number of advanced features: more convenient multipart (multivolume) archives, tight compression including special solid, multimedia and text modes, strong AES-128 encryption, recovery records helping to repair an archive even in case of physical data damage, Unicode support to process non-English file names and a lot more.
---
Open/Extract RAR File on Windows
RAR is the native format of WinRAR archiver. WinRAR provides the complete support for RAR files, so you may both create and unpack them. However, the WinRAR is not free.
Fortunately, there are many free alternatives. For example, 7-Zip, Easy 7-Zip, PeaZip, and so on. I recommend Easy 7-Zip. The Easy 7-Zip is an easy-to-use version of 7-Zip. The open source freeware keeps all features of 7-Zip and adds a few useful features that makes the software more user-friendly.
Easy 7-Zip works on Windows 10/8.1/8/7/Vista/2008/2003/XP/2000 (both 32-bit and 64-bit compatible).
Free Download Easy 7-Zip
Install Easy 7-Zip by step-by-step instructions
The installation will associate RAR with Easy 7-Zip automatically
Double-click on RAR file to open RAR file with Easy 7-Zip


You will see files or folders within the RAR file then, click button Extract to extract the RAR file.


Alternatively, Right-click on RAR file on Windows Explorer


And then, choose Extract files..., Extract Here, or Extract to "folder\" to extract the RAR file.


Done
Easy 7-Zip Download Links:
---
Open/Extract RAR File on Mac
To open/extract RAR file on Mac, you can use B1 Free Archiver. B1 Free Archiver is a free software for creating archive folder and extracting archive file. B1 Archiver works on all platforms - Windows, Linux, Mac and Android. The freeware supports most popular formats including RAR.
B1 Free Archiver is compatible with:
Mac OS X 10.9 Mavericks
Mac OS X 10.8 Mountain Lion
Mac OS X 10.7 Lion
Mac OS X 10.6 Snow Leopard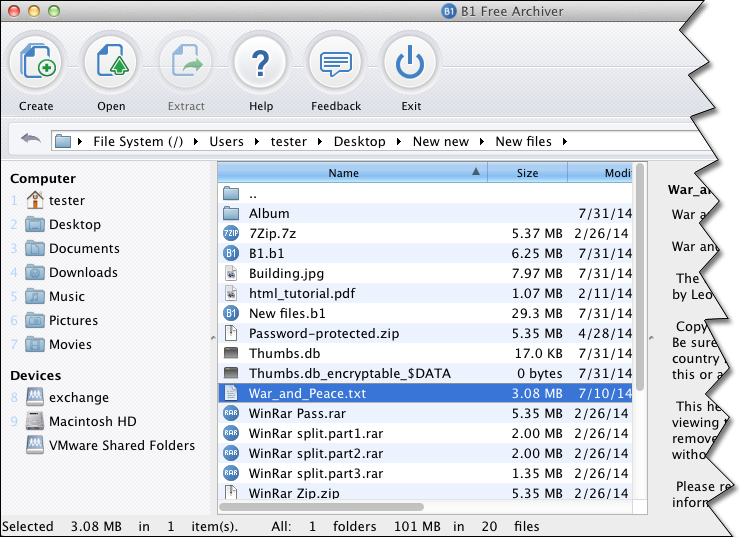 An alternative freeware is The Unarchiver. The Unarchiver is a small and easy to use program that can unarchive many different kinds of archive files. It will open common formats such as Zip, RAR, 7-zip, Tar, Gzip and Bzip2. It will also open many older formats, such as StuffIt, DiskDoubler, LZH, ARJ and ARC. It will even open other kinds of files, like ISO and BIN disc images.
---
Open/Extract RAR File on Linux
You need to install unrar. unrar extracts files from RAR archives.
Install unrar on CentOS and Fedora
Install unrar on Debian and Ubuntu
$ sudo apt-get install unrar
Extract a RAR file on Linux
Extract RAR with full path, type command:
List files inside RAR archive:
---
Copyright © 2013-2017 James Hoo All rights reserved.