Open/Extract ZIP File with Freeware on Windows/Mac/Linux
---
ZIP is an archive file format that supports lossless data compression. A ZIP file may contain one or more files or folders that may have been compressed. The ZIP file format permits a number of compression algorithms. The format was originally created in 1989 by Phil Katz, and was first implemented in PKWARE, Inc.'s PKZIP utility, as a replacement for the previous ARC compression format by Thom Henderson. The ZIP format is now supported by many software utilities other than PKZIP. Microsoft has included built-in ZIP support (under the name "compressed folders") in versions of Microsoft Windows since 1998. Apple has included built-in ZIP support in Mac OS X 10.3 (via BOMArchiveHelper, now Archive Utility) and later. Most free operating systems have built in support for ZIP in similar manners to Windows and Mac OS X.
ZIP files generally use the file extensions ".zip" or ".ZIP" and the MIME media type application/zip. ZIP is used as a base file format by many programs, usually under a different name. When navigating a file system via a user interface, graphical icons representing ZIP files often appear as a document or other object prominently featuring a zipper.
ZIP is one of the most widely used compressed file formats. It is universally used to aggregate, compress, and encrypt files into a single interoperable container. No specific use or application need is defined by this format and no specific implementation guidance is provided. This document provides details on the storage format for creating ZIP files. Information is provided on the records and fields that describe what a ZIP file is.
---
Open/Extract ZIP File on Windows
To open/extract ZIP file, you can use Windows built-in feature, or use a more professional freeware. It's Easy 7-Zip. The Easy 7-Zip is an easy-to-use version of 7-Zip. The open source freeware keeps all features of 7-Zip and adds a few useful features that makes the software more user-friendly.
Easy 7-Zip works on Windows 10/8.1/8/7/Vista/2008/2003/XP/2000 (both 32-bit and 64-bit compatible).
Free Download Easy 7-Zip
Install Easy 7-Zip by step-by-step instructions
The installation will associate ZIP with Easy 7-Zip automatically
Double-click on ZIP file to open ZIP file with Easy 7-Zip


You will see files or folders within the ZIP file then, click button Extract to extract the ZIP file.


Alternatively, Right-click on ZIP file on Windows Explorer


And then, choose Extract files..., Extract Here, or Extract to "folder\" to extract the ZIP file.


Done
Easy 7-Zip Download Links:
---
Open/Extract ZIP File on Mac
To open/extract ZIP file on Mac, you can use B1 Free Archiver. B1 Free Archiver is a free software for creating archive folder and extracting archive file. B1 Archiver works on all platforms - Windows, Linux, Mac and Android. The freeware supports most popular formats including ZIP.
B1 Free Archiver is compatible with:
Mac OS X 10.9 Mavericks
Mac OS X 10.8 Mountain Lion
Mac OS X 10.7 Lion
Mac OS X 10.6 Snow Leopard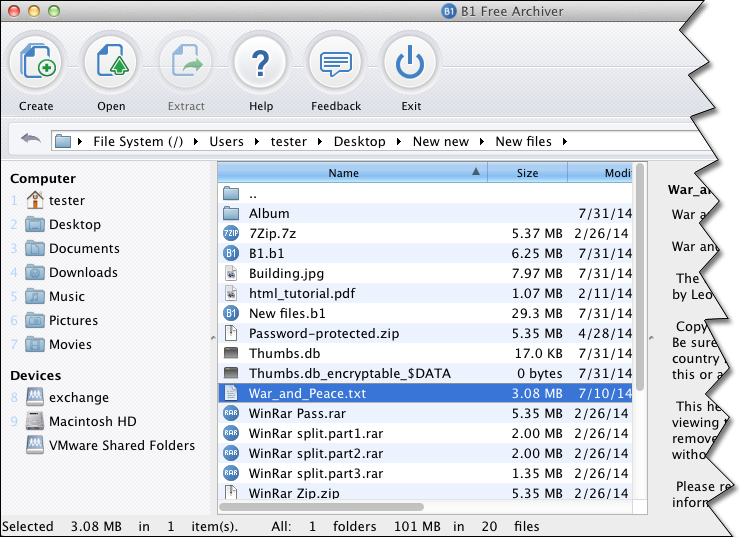 ---
Open/Extract ZIP File on Linux
You need to install unzip. unzip lists, tests, or extracts files from a ZIP archive. The default behavior (with no options) is to extract into the current directory (and subdirectories below it) all files from the specified ZIP archive. A companion program, zip, creates ZIP archives; both programs are compatible with archives created by PKWARE's PKZIP and PKUNZIP, but in many cases the program options or default behaviors differ.
Install unzip on CentOS and Fedora
Install unzip on Debian and Ubuntu
$ sudo apt-get install unzip
Extract a ZIP file on Linux
Extract to a particular destination directory, you can use:
$ unzip sample.zip -d <destination_directory>
---
Copyright © 2013-2017 James Hoo All rights reserved.